Maliba Mobile Clinic assists local Lesotho communities with mobile medical assistance

On the 22 July 2014, The Maliba Community Trust mobile clinic journeyed to St Denis bus stop outreach  to assist the community with mobile medical services.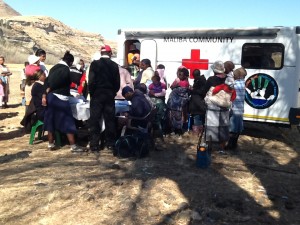 The Maliba Community Trust has been operating since 4 February 2014 and aims to assist the local communities with a conveniently located medical station.
The visits by the mobile clinic are welcomed by the community who arrived in great numbers to receive the assistance from the Clinic, Nurses and Staff on duty. With greater awareness in the community, the value of the Mobile Clinic continues to grow to the local communities who would otherwise have to travel great distances to receive treatment and care.
Although the Mobile Clinic still faces difficulty acquiring local assistance, Our Trust Manger, Daniel Ts'osi and Maliba staff will continue to ensure that The Maliba Community Trust is able to provide essential services to local Lesotho communities.